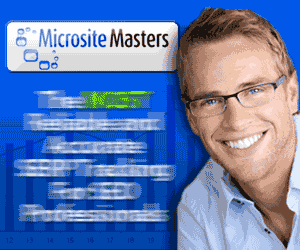 One of the best results of keywords tracking and affordable price is big plus.
Dashboard can be for newbies a little bit distracting, but still there is project wizard.
Microsite Masters is one of the most accurate keyword tracking service I ever used.
As you propably know tracking your SEO progress is really important in internet marketing, but finding the right keyword tracking service isn't so easy as it sounds. There are many keyword tracking, but I am honestly using only Microsite Masters, becuase if I have to compare price and quality of serp tracking, then Microsite Masters is way to go. And in this Microsite Masters review I will show you my dashboard, how I am using it and what you can expect if you purchase Microsite Masters.
First thing that you should know about Microsite Masters is fact that you can join for free and track up to 10 keywords for free, then you can anytime upgrade for 150 keywords (20 dollars per month) up to your needs. I honestly have 50 dollars per month program, because I have a lot of keywords that I need to track for. Also you need to know that they refresh rankings every day (sometime even 2-3x per day).
Dashboard – Microsite Masters Review
Also if you have some SEO software or another service, then there is also api integration. Well then if you are not familiar with their dashboard, then there is project wizard, where you can continue step by step. But anyway it's very easy to setup your campaigns – all what you have to do is insert your domain and keywords that you want track. But anyway there is screenshot of Microsite Masters project wizard.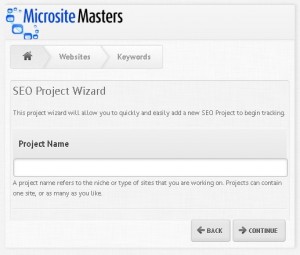 Also you need to know that even if you have free version of Microsite Masters, then you can add unlimited domains to your account. Only limit that there is keywords limit.
Microsite Masters Review on Youtube
Here is my Microsite Masters video review…
Tracking with Microsite Masters – Let's be honest in this review
Microsite Masters doesn't track only Google SERP, but also it tracks Yahoo and Bing, so you will know everything about your rankings and I think that there is actually very friendly dashboard of rankings – check screenshot below. It is showing how many keywords dropped and how many keywords increased their rankings. Also it will email you every day rankings reports (if you want, for example I didn't want this function so I unchecked it).

And if you have any SEO services for your clients, then you can send them special tracking url where they can see serp movements on their keywords. Honestly not so many keyword tracking services can't do that and I am trying to be honest in this Microsite Masters review.
If I have to talk about support, then they are trying to respond within 24 hours and they are very friendly. For example I had problem with invoices for taxes purpose – they was talking with me one hour. So their support rocks.
My Last Words In This Microsite Masters Review
If you are looking for professional and affordable keyword tracking service, then this is the way to go. Also don't forget that there is free version of Microsite Masters, so you can join and try their service and then you can decide if you want to upgrade for more keywords or not.
So big like for Microsite Masters, because it's only one keyword tracking service that I am using at this time. Anyway I hope that you found this Microsite Masters review useful and helpful and if you have any comments or questions about this keyword tracking service, feel free to contact me anytime or leave your questions below.
>> Join IT Now ! <<

---
Click Here
or check Microsite Masters Reviews on Affgadgets.com