WordAI actually can create human readable high quality content with single click.
This article spinner is a little bit expensive, but you will get what you pay for.
If you are looking for best proven article spinner in the world, WordAI is way to go.
Are you spending too much money on content writing or do you have large blog network that needs fresh content almost every day ? Finally there is solution called WordAI that can spin your articles. Ok that's nothing new, right ? Article spinners there was long time – but finally there is article spinner that create human readable quality content that you can use for your SEO purpose, feed your blog or even I saw some people selling WordAI spinned articles as content writing SEO service.
First I have to say that if you have some SEO tools like GSA SER, then I recommend you to get article spinner that is creating human readable content to avoid Google banhammer, because as you may know Google is smarter every day – in other words search engines don't like spinned articles (and visitors too). So solution is to hire some writers that will make human readable contextual backlinks or you can buy WordAi, which don't have competition at all (other article spinners can't create human readable content at all).
So Let's Try WordAI in this Review
Compare to other article spinners (and this is big plus for WordAI) all what you have to do is insert your article into WordAI dashboard and it will automatically spin your article, so what's so unique about this ?
It's web-based with api integration – in other words you can access wordai even if you are not at home and if you prefer softwares, then there is api integration that will do that job. And second big like is for fact that you don't have "play" with spinning, it's just put article – click on spin and you will get your spinned article (you can also get article with spinning syntax for SEO purpose).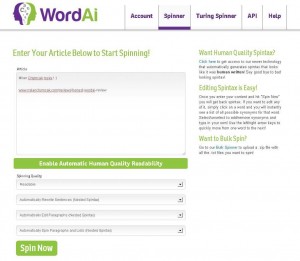 Also WordAI supports bulk spinning – you can upload your articles in zip file and it will automatically spin your articles and then there is option to also download spinned articles in zip. Well if you have SEO service with a lot of clients, then you will like this feature.
Wordai Review on Youtube
Here is my Wordai video review…
WordAi Review & Pricing Plans
There are two pricing plans that you can sign up for – standard plan and turing plan. Let's be honest turing plan will allow you to "fire your writers", because you will able to create extremely readable articles that you can also sell on microworkers sites or on fiverr (for example). Turing plan costs 50 dollars per month and standard plan costs 20 dollars per month, but in standard plan you will be able not to create so extremely readable articles. To make this WordAI review really honest, I have to say that you will also recieve guide how to make money with Wordai selling articles.
Honestly I am using for SEO purposes standard plan, because I need 1000s of articles every month and standard plan is best solution for me. In other words standard plan creates high quality content, But sometimes looks spun, which is ok for me and for search engines and with api integration I am killing it with WordAi.
My Last Words In This WordAI Review
If you are looking for tool that will generate 100s of human readable content for your websites, for your SEO campaigns or for your clients, I can honestly tell you that you will love WordAi. Also as I mentioned in this WordAI review, you can choose your spinning plan (standard or turing) – it depends how you want to use your articles. In my opinion it was the best investment that I did for my campaigns.
Anyway I hope that this WordAi review helped you with the right decision and I also believe that you found this WordAI review useful and helpful at all.
>> Get IT Now ! <<

---
Click Here
or check Wordai Reviews on Affgadgets.com