Very high indexing rate and very afordable price.
There is 50.000 backlinks per day limit - for advanced SEOers it may be problem.
In my opinion indexification is one of the best (maybe the best) indexing servicve online.
When I started my internet marketing career one year ago I made huge mistake – I created a lot of backlinks through my favorite SEO tools like GSA SER and so on, but I forgot the indexing part of my backlinks (of course I tried ping them all and create RSS, but it didn't worked so well). But then I saw thread on my favorite internet marketing about Indexification indexing service – well I joined indexification, because there is money back guarantee (so I couldn't lose anything) and because of positive feedback from other marketers.
Well there is 50000 backlinks per day limit, but you can easily switch to 1.500.000 backlinks per month limit (you can submit up to 1,5m backlinks at once). But I was so happy with indexification that I also upgraded my account, as you can see on my screenshot below – there remains more than 2.000.000 backlinks. Because .. and let's be honest .. you will hardly ever find better backlinks indexing service for such a good price as this. For 18 dollars per month you can save thousands of dollars (compare to other backlinks indexing services like Backlinks Indexer).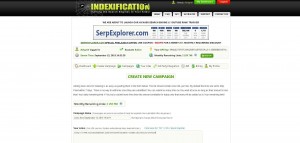 User Experience & Indexification Review
Creating campaigns in indexification is very easy – all what you have to do is insert all your backlinks into your dashboard and it will automatically do all your job. There is also API integration for all popular SEO softwares, so you don't have to login into your indexification dashboard at all. I think that it's very valuable and great function that other indexing services don't have, because it will save you a lot of time spending on indexing backlinks.
Then all backlinks that you will submit will be drip feeeded to avoid Google penalty, because nowadays it is no good search engines to find many backlinks to your same sites pretty quickly! Using a drip feed is preferable and safer. There you can choose if you want to dreep your backlinks within 1,2 up to 30 days or if you want to dreep feed your backlinks by specific amount (for example 500 backlinks per day). Of course you can submit all your backlinks at once without drip feeding, but it's not recommended at all.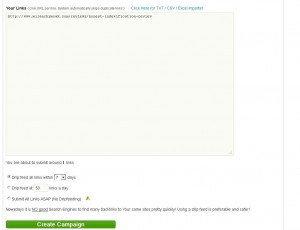 What About Indexification support ?
Well as I said above, my account is upgraded but only because of very friendly admin – first if you have any trouble with using Indexification he will really help you – for example I wanted to have more backlinks and monthly limit – it was no problem for him and he also responded very quickly (big like for that).
And also don't forget that there is 100% crawl rate – so what is difference between crawl rate and indexing ? 100% crawl rate means that Google bot will visit your backlinks, then it's up to Google if you will index your backlinks (it will index 95% backlinks at first crawl). So if you have a lot of forum backlinks that are pure spam or backlinks without any content, then it may be harder to index these backlinks.
But if you have contextual backlinks, then I can guarantee that you backlinks will be indexed. Also I recommend you to focus on creating contextual backlinks to avoid penalty (it's harder to get penalty with contextual backlinks then with blog comments, where is OBL>50 or with forum links).
Indexification Review on Youtube
Here is my Indexification video review…
What You Need To Know About Indexification – Indexification Review
If you have any SEO clients, then you will really find useful fact that Indexification also have clients reports – you can send to your clients link with all details about their backlinks (if they are crawled and so on…). If you are running any SEO service, then you will love this fact. Also don't be afraid to contact admin of Indexification anytime, because he is really friendly person. And my last words about this backlinks indexing service ? It's the best indexing service and the only one that I am using at this moment. So I believe that this Indexification review helped you to make the right decision and I also hope that you find this review useful and helpful at all.
>> Get IT Now ! <<

---
Click Here
or check Indexification Reviews on Affgadgets.com