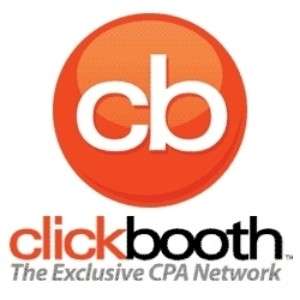 Professional support, best companies to work with and high payout offers.
It is really hard to get accepted into this network.
If you are looking for top quality elite CPA or CPC network, Clickbooth is what you are looking for.
Clickbooth is really exclusive network as they are claiming on their homepage, well you don't believe me ? I created this Clickbooth review to show you how you can easily increase your profits just by switching to this popular network. But before I will show you my Clickbooth review, I have to tell you that I have affiliate CPA account, so this review will be from affiliate view. So if you want to join as advertiser, I suggest you to actually contact me and I will assist you.
Also in this Clickbooth review I will show you and also help you to get accepted into this premium network (because it's really hard to be accepted). And also I will show you why you have to join this network and how you are losing your money right now if you are doing some kind of offers outside Clickbooth.
Why To Join Clickbooth – Lets be honest in this review
As I said at the beginning this is exclusive network – why exclusive ? Because Clickbooth has elite partners that you will work it if you will got accepted into this network. Top players in the industry are working with Clickbooth and you should too. So there are top offers – a lot of email and zip submits, also a lot of dating and financial offers that you can work with. But in general there are all categories of offers that you can choose from.
Also there are very professional and friendly affiliate managers – why professional ? Because they actually know how to generate traffic, make conversions and make money. So they will actually help you to make the big bucks you are dreaming of. But since you need experiences to get accepted, they suppose that you know what you are doing while promoting their offers. Also good thing is that you can easily contact them and they will make special offers only for you. Just imagine – vip offers for your website.
Warning !
I was personally deleted on this network without any reason. So I recommend you to check these networks.
Why you should avoid Clickbooth – Honest Clickbooth review
Well if you are beginner in the affiliate marketing industry, I suggest you to try another network – for example Maxbounty or Peerfly. It is easier to get accepted and there are "easier" offers to make money from.
Also if they decline your offer once, then it is really hard to submit new registration form. Only if you have high volume of traffic for their offers. Of course if you are able to send huge traffic to their offers, they will accept you into their network, but be careful with shady and blackhat techniques, because you don't want to be kicked out of this network.
My Last Words In This Clickbooth Review
So how to get accepted ? If you are beginner in the affiliate marketing, I suggest you to read some articles about generating traffic for example on moz and then while registration tell them how you will generate your traffic to their offers like professional. Also they want to know how you are making money right now, so tell them for example that you are working with Maxbounty right now and you want to expand your portfolio or something like that.
Well I believe that this Clickbooth review helped you to make the right decision for your business and also that you found this Clickbooth review useful and helpful. And don't be shy to contact me anytime if you have any kind of questions about making money or about this network.
>> Join IT Now ! <<

---
Click Here