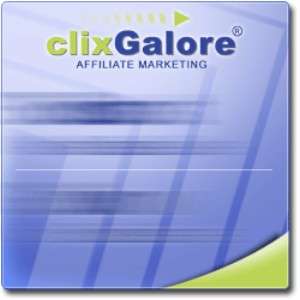 A lot of quality merchants and affiliates, no monthly fees, great support.
No instant registrations, really old interface.
If you are looking for network without fees where you can promote your products, this is what you are looking for.
I decided to create this Clixgalore review, because I am really huge fan of this network. Well why I like this network so much ? It's really simple, if you have any digital product that you want to sell on the internet, then you will notice that for example Clickbank is taking 7% and one dollar from each purchase. Wow, you know that is a lot of money that you are losing right now.
And what about Clixgalore ? Well starting fee is a little bit higher, you have to pay 75 dollars for opening merchant account, bun once you have your merchant account there is no fee at all. So you will get 100% from every sale you will made and another big plus ? Clixgalore is not huge fan of refunds like Clickbank, so be prepared for another money for your bank accounts.
So Why To Join Clixgalore – Honest Clixgalore Review
There aren't monthly fees, not even fees from sales that you will made – its paradise for every infopreneur. Also great support compare to other networks (if you ever tried to contact Clickbank support, you know what I am talking about). But what about affiliates / publishers ? There are thousands of products that you can choose from and there are two options that you will get paid off if you will promote products.
First you can get paid up to 100% of product – for example you will sell software that is worth 100 dollars, you will recieve 80 dollars if merchant will share 80%. Second option is get paid per sale – there is fixing price that you will recieve if you sell some product. It is like combination of Clickbank and CPA network. Well I honestly like it, but now I will show you what I don't like about this network. Well you know – not everything is perfect.
And as merchant you will also recieve free phone call support and other features that will help you to get more affiliates and better conversion rates. Since I joined as affiliate, I can't go deeply into this features, but if you join as merchant – you will really like it.
Warning !
I was personally deleted on this network without any reason. So I recommend you to check these networks.
Why You Should Avoid Clixgalore – Lets be honest in this review
I really don't like their interface, it is kind of old design and they should make new one. But since we are here to make real money, then we can also skip design of our network (but it's really hard sometimes to find what you are looking for). Another fact that I don't like is that there isn't instant registrations (for example if you want to register into Clickbank network, you don't have to wait at all).
I think that that was two huge cons of Clixgalore, otherwise Clixgalore is really premium network (and I am trying to be really honest in this review) – why premium ? You think about it, there is big registration fee for merchants, so only quality merchants are avaible. So you have to be sure that there are only quality products and quality affiliate marketers.
My Last Words In This Clixgalore Review
So if you are looking for top quality products to promote as affiliates or if you are looking fees-free network where you can promote your products, Clixgalore will be really good choice for you business. Well I also believe that this Clixgalore review helped you to make the right decision and also that this Clixgalore review was useful and helpful for you. So stop wasting time and lets make real money there.
>> Join IT Now ! <<

---
Click Here