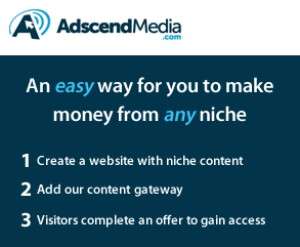 Multi-functions CPA site - content locking, file locking, link locking etc.
It's harder to get accepted into Adscend Media network.
If you are looking for top quality CPA site, you have to try this network.
If you are looking for way to monetize your website or your free giveaways, then you probably heard about Adscend Media and if not, then listen carefully. Do you know why I decided to write this Adscend Media review ? Well, because you will hardly ever find better CPA network to work with. In this Adscend Media review I will show you why Adscend Media really rocks – in other words why you should join this network and on the other hand why you should avoid this network.
Main purpose of this Adscend Media review will be help you to make right decision and save your time and money, because choosing the right CPA company is really important part (maybe the most important part). Also I will show you how dashboard of Adscend Media looks like and what you can expect from this network and also I will show you all tools that this network can offer.
Why You Should Join Adscend Media – Honest Adscend Media Review
First – there are so many features that other networks can't give you at all. Professional content locker – you can send visitors to different offers depending on their country, or have your traffic divided between more than one offer to determine which performs the best. So you can be sure that there will be really badass conversion rates. Also there is link shortener with surveys, so you will get maximum from your links.
Then there is special tracking tool which will help you to track your visitors like professionals (really better than Google Analytics). If you have some experiences in affiliate marketing, then you should know that tracking is the key to success.
In content gateway you can choose which offers you want to show to your visitors, you can also ban some countries from showing your content or you can choose some specific offers for specific country. There are so many possibilities how you can optimize your content locker. Also if you will have problems with installing your content locker, their support is really awesome. They can help you via tickets or they even can help you through skype or you can share your desktop with them and they will do your job.
Adscend Media Review on Youtube
Here is my Adscend Media video review…
)
Visit Adscend Media
Why You Should Not Join Adscend Media – Honest Adscend Media Review
Adscend Media is really awesome network, but lets focus on cons of this network – yes, this network is not perfect as expected. In some networks you can modify some offers or you can request to make "vip" offers only for you. This option I am missing here – you can disable some offers here in content locker, but in link locker you cannot. Anyway that is all what I could find about this network (if we are talking about cons).
In other words Adscend Media is really great network with a lot of features and advantages and almost without any cons at all. Even registration is almost instant and as I said affiliate managers are really great.
My Last Words In This Adscend Media Review
If you are looking for top professional CPA company with content locker, I suggest you to join Adscend Media. You can easily monetize your traffic and if your content is really great, you can make thousands of dollars each month just thanks to content locker by Adscend Media. If you have any questions about making money with content locking, just contact me if you want.
Anyway I hope that this Adscend Media review helped you to make the right decision and that you found this Adscend Media review helpful and useful at all.
>> Join IT Now ! <<

---
Click Here