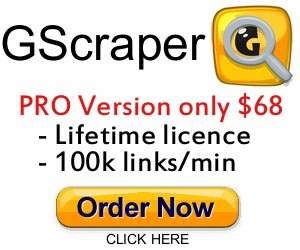 A lot of updates, many features, huge community and friendly support.
Price is a little bit higher for me, but still you can download free version.
Gscraper is most powerful scraper and poster, even better than Scrapebox.
Gscraper is brand new software in SEO field and more and more internet marketers are using Gscraper instead of Scrapebox. It's like fight Gscraper vs Scrapebox, but in the end my opinion is that Gscraper will win. Why ? I will show you in this Gscraper review everything about this software and why I am using it every day to boost my SEO campaigns and how you can easily recieve Gscraper for free and use it for your business.
When it comes to speed, Gscraper is the fastest scraper and poster SEO software that you can use for your business. It's even more faster than SCrapebox itself and also Gscraper has built in their own proxy system, so you don't have to worry about getting proxies, but if you want to use proxies, then there is proxy scraper installed in. Well there are a lot of another features that I will show you later in this Gscraper review.
Gscraper Review – Speed, Speed and Speed
Below you can see screenshots of Gscraper software, where you can see clearly speed of this software. If you will install it for first time, it will be shock for you how fast you will start scraping your urls. As you can see on the screenshow, you can harvest up to 100 000 urls every single minute, how awesome it is ? Well if I have to compare other SEO tools that I own, this is really number one in my arsenal.
Another screenshot will show you how fast you can check PR of your scraped urls, well you don't want to backlinks from low and high OBL pages, right ? Then you will fall in love with this speed of PR checking.
Below you can check my Gscraper video review, where I will show you all Gscraper features that I don't review in this article. I will try to show you all tools, plugins and features that you will recieve if you decide to download Gscraper and if you have any questions about this video review, leave a comment below this review please.
Gscraper Review on Youtube
Here is my Gscraper video review…
Free vs Premium Version – Gscraper Review
You can easily download their free version and test it how you want, but if you want to enjoy all benefits, then you have to purchase Gscraper for full price. Well when I bought this software, it costed me about 30 dollars, now how Gscraper is more and more popular, the price is rising and now it costs 68 dollars per licence. But still it is must have tool in your SEO arsenal and in my opinion you will recieve your investment really fast back.<úp>
So make sure that you will check free version first time and then decide if you want to buy premium version or not, but its worth it. And I am trying to make this Gscraper review really honest, because in my opinion Gscraper is more powerful than Scrapebox, GSA SER or Ultimate Demon.
My Last Words In This Gscraper Review
If you are looking for ultimate SEO software with a lot of functions, features and plugins, then Gscraper is what you are looking for. Compare to other tools, it isn't so much expensive as it may looks like. Also if you are not sure, go and test free version of Gscraper and then make your decision, but I want to tell you that life is so much easier if you Gscraper for your marketing activities.
Well I hope that this Gscraper review helped you to make the right decision and also if you have any questions related to this Gscraper review, feel free to contact me any time you want or just leave your comment below this review and I will try to respond you as fast as possible. I believe that you found this Gscraper review helpful and useful at all.
>> Get IT Now ! <<

---
Click Here
or check Gscraper Reviews on Affgadgets.com