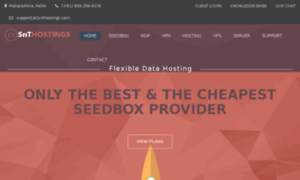 Very cheap and affordable compare to other seedboxes.
So far there are no cons of this service.
If you are looking for quality and affordable seedboxing service, this is what you looking for.
Are you tired of your slow internet? Are you fond of downloading torrents but you are a busy person who has few time to spend in downloading? If you are, there is something that you need to do. There is no need to stay on where you are now. If you are unhappy, do something to make yourself happy or at the very least, satisfied.
You are paying with an internet connection that you are not satisfied with, but there is no other internet provider that you can choose from. So what is there left for you to do in order to have a fast download and upload speed than what you have now? There are many services offered in the internet that you can avail to have the download and upload speed you want. Are you familiar with seedbox?
This seedbox is a remote server that you can use to improve the download and upload speed of your torrent. This is possible by increasing the ratio on private trackers. This is a good way to improve your download experience than what you have at the moment. What's even better is that you can have a better download and upload speed without switching your internet provider.
So, the next question will be, where should you purchase or avail the service of a seedbox? There are a lot of things you should consider in paying for such services. There are many companies who offer seedbox service but there are only few who can give you the best deal. One company to avail a seedbox service that you should add in your options is SnTHostings.
SNTHostings Support
SnTHostings is a company who can offer you with the amazing service of a seedbox. They have sold over 500 seedboxes, VPSs, RDPs and hundreds of servers. They use Linux as their base OS so it will be comfortable and easy for the users to use their services. Furthermore, they offer different services aside from seedbox. They have different plans for you. Here are the plans they offer: remote desktop protocol, 100mbps Seedbox, 1Gbps Seedbox, Encoding RDP, Virtual Servers, and Dedicated Server.
SNTHostings Pros
There are plans to choose from. You can choose a way to improve your internet experience. You will be the one to decide according to what you think is needed to improve the service that your internet provider is giving you.
You will experience a faster download and upload speed without switching internet providers. You do not need to go through all the hassle of finding a replacement for your current provider and signing up different contracts and other terms just to change you internet speed. However, with SnThostings you can improve your experience in your own provider. Furthermore, you can also experience a speed that is up to 1Gbps based on the plan you choose.
They were able to sell over 500 seedboxes, Encoding RDP, Virtual Servers, and Dedicated Servers; which tells you that many people trust their service. They have a customizable feature. This implies that they care about what their costumers prefer.
They offer free seedbox and have other giveaways for their clients. These are more evidences that they care about their clients. Plus, who do not like something free? They can give you something without you paying for them.
They have 24/7 support, meaning you can ask them anytime you had your troubles or has questions and clarifications.
SNTHostings Cons
Their services are limited. There may be some of the things in their plan that you do not like, or there are some things that you want to add but is not there. However, they have this customize feature that may help you with your preferences.
The areas where they offer their services are limited. They only offer them from Netherlands to France. Hence, if you are not in these areas, then you cannot avail their awesome services. However, they are planning on adding more countries on the list of where they provide their service in the long run.
They are not offering their full service for free. Yes, there are plans you can choose from and there are giveaways and free sandbox but those are only limited. And their plans are also limited to how much you can pay. You will have less if you will pay less. So if you do not have the budget, you will not receive the full potential SnTHostings can offer you. Furthermore, if your reason for downloading online is for you to save some cash, then purchasing this service may defeat your purpose of downloading online.
SNTHostings Summary
Now, you know that there is an answer for your slow internet. What you can do is avail services online, like the seedbox. Seedbox are those that can give you faster download and upload speed by increasing the ratio on private trackers. One company to add to your options who can give you satisfaction is SnTHostings. They coffer different kinds of plan according to your needs. They have proven effective since the time they start operating, but being able to sell more than 500 of their services.
However, in considering availing their plans, there are things you should consider. This company has its pros and cons. Here are its pros: they offer different kinds of plan, they can increase your upload and download speed without switching your internet provider, they have a customizable feature, they have giveaways, and they offer support for 24/7.
If you are amazed with what they can offer, and wanted to purchase, think again and look at their cons. Here are their cons: their services are limited, the area where they offer their services are limited, they are not offering full services for free. Considering these, look at the pros again. If you think that these cons are worth it for a the pros, then avail their service and have a better experience than what you had before. However, if you think that there is just too much to sacrifice, then do not buy and settle for what you have now. The decision in availing SnTHostings' services will still be up to you.
>> Get IT Now ! <<

---
Click Here
or check SNTHostings Reviews on Affgadgets.com