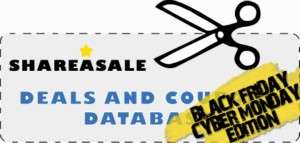 Instant registration, very professional support and high paying products.
Their interface is not beginner friendly - it's hard to choose the right offer to promote.
Shareasale is large affiliate network with a lot of merchants that you can choose from.
About one week ago I decided to join Shareasale and because I was so excited about the results, I decided to write my honest Shareasale review about this network. If you don't know anything that Shareasale network, then it's old trusted network 14 years old. So you can now imagine how many affiliates and advertisers are currently working with this network. I don't know exactly that number, but there are thousand of products and offers to choose from.
But since I joined this network as affiliate // publisher, I will make this Shareasale review from this view. If you want to join as advertiser, I suggest you to contact me anytime you want and I will try to assist you with registration and I will also answer all your questions.
Well in this review I will show you why you should really join this network and on the hand I will also show you what I don't like about this network. And then you can make your own decision if you want to join it or not. Well there is my honest Shareasale review …
Why You Should Join Into ShareaSale Network – Lets Be Honest In This Review
There are a lot of marketing tools for free – honestly for these tools you will have to pay 100 of dollars somewhere else. So what kind of tools are there ? There is landing page creator, video creator (you can easily create videos through your browser), pay per call center, email list builder, awesome widgets and much more. That is the reason why I gave so big rating for this affiliate network – Shareasale just deserve it.
Ok that is the first reason why you should join it, second reason is even better – there is really professional support that is actually friendly and helpful compare to other networks. They are responding very quickly and also there is avaible chat or virtual assitance, also for free. For merchants is there also special phone call support, but I didn't test it as long as I am affiliate right now.
Another reason why you should try it is huge database of advertisers – well you can choose the right product or offer to make a fortune, also affiliate manager will help you to find the right product or offer for your niche and for your website. Another huge plus for their support. Also you will like feature that they are monitoring trends and holidays and through dashboard you can maximize your monetization potentional thanks to this feature.
Shareasale Review on Youtube
Here is my Shareasale video review…
)
Visit Shareasale.com
Cons of Shareasale – Honest Shareasale Review
Honestly I don't like their interface, because I am using protected version of firefox where I am blocking javascripts, it looks very bad for me. But for regular users it will be ok I think. Next thing that you will have is fact that product owner need to approve you in order to promote his product. In my opinion it is a little bit time consuming, but on the other hand it will save you and merchants from troubles.
Also I was looking at other tools of Shareasale and I have to honestly say that there aren't other cons or maybe I just didn't find them yet.
My Last Words In This Shareasale Review
If you are looking for trusted affiliate network which can guarantee quality and best support, then you have to try Shareasale. I already made some bucks with them and in my opinion it is really worth it to join. And if you have any questions about this network or about making money then feel free to contact me anytime. I also believe that this Shareasale review helped you to make the right decision for your business.
>> Join IT Now ! <<

---
Click Here