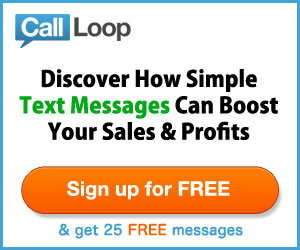 Call Loop has really nice price compare to other competitors.
For beginners marketers it must be really hard to learn to use this system.
If you are looking for solution for your SMS marketing, then this is what you need!
Call Loop is a program that lets you connect to your customers and followers through telephone and mobile phones. It allows you to conveniently send personalized or automated SMS messages to potential attendees and those who committed that they will attend the webinars.
This is, in fact one of the contributors of increasing the number of attendees in webinars. One because the attendees are coordinated in a more personalized manner and secondly, they are reminded of the schedule and the topics that are going to be discussed. In this way, those who tend to forget about the schedule are given the chance not to skip the schedules.
Companies are also able to manage a contact list of up to ten thousands contact numbers, where the messages can be sent and processed in a matter of few minutes. With the program, it is also convenient to get lead ins through keywords based on your company's Facebook page, website or company blog.
It works with a lot of providers such as Unbounce, Zapier, HubSpot, AutoPilot, Marketo, Constant Contact, iContact, OntraPort, AWeber, MailChimp, InfusionSoft and GetResponse. This makes it a lot easier to interact with the potential attendees as well as the registered participants because of the wide array of options available.
Those who want to try Call Loop, should be able to sign up immediately and are given 25 messages for free trial. Their official website offers more information about the product and the features available when a subscriber wants to know more about what Call Loop has to offer.
Call Loop Support
Getting assistance with how Call Loop works should be accessible enough that all the basic questions regarding SMS and call managements through this program is already available at their knowledge base support. It includes updates about the new features available, questions about contacts and subscribers, usage and management of mobile keywords, more information about Call Loop through the FAQ section, billing and pricing and other inquiries about the account and questions about SMS and voice messages.
For instances where the questions are not indicated in the knowledge base, subscribers can easily send a request to get feedbacks. There is also a link to monitor the request sent to the customer support.
Call Loop Pros
This product allows companies to send SMS and voice messages to their customers through the awesome platform Call Loop. As a company with hundreds or even ten thousands of followers or more, having a program that manages the SMS and voice messaging allows customers to have more options in contacting you for any queries about your event. At the moment, several big companies are already using this system which includes HYATT, Tribune, UNLV, CareerBuilder, Entrepreneur's Organization and Subway.
Customers are able to join through mobile keywords and companies are able to respond to these keywords accordingly. In addition, it should be easier to send out SMS messages to everyone in the list regarding schedule reminders, coupons and contests exclusive to members.
It is also convenient to send voice messages to recipients which can be done on a preset. You can record it beforehand and set a particular schedule to send out the voice mails.
With Call loop, it should be easy to manage the response of the customers by having a list for who responded and who ignored it and also be able to monitor clicks through the SMS messages.
The list can be built easily by importing contacts from your FaceBook page, blogs and website and there is no limit to the number of names and contact numbers that can be saved in the list.
Call Loop Cons
Managing the number and frequency of texts being sent to the recipients must be regarded full respect to the customers, whether they are a potential attendee or someone who has already confirmed their attendance.
Because the sending of SMS and voice messages can be done so easily that it can even be scheduled at a particular time, some people mistakenly send messages too frequently. Be sure to carefully decide on the frequency of SMS messages that you want to send. You may also want to employ a variation of information that you want to include in the message. Some companies, use their reminders to also provide contests to their recipients.
Another thing is, it is important to also learn more about the mobile keywords. For some, it may be a taxing part of learning the ropes of Call Loop but, when a user understand the way it goes, it can be one of the most convenient features of this program.
In the same way that some people may send message far too frequently, some companies tend to send too little of it. Keep in mind that Call Loop is one of the best tools that you can use to interact with your potential attendees and confirmed participants. It is essential that they are given appropriate time for reminder.
Summary
As a final word, Call Loop is one of the programs that allows the company and the customers to have good communication. As we know, sending SMS to the company can be one of the most convenient way of getting feedback instead of calling them and spending a lot of money to talk to a live representative, only to be given few minutes of talk time because the inquiry requires an easy answer.
Whereas with SMS messages, when a keyword is sent, your program can immediately send back immediate answer to your customers especially when it is one of the most common keywords. This increases good customer experience which adds to your value as a company. Keep in mind that nowadays, good customer experience is one of the major contributors of why people choose to stay loyal with a company.
With Call Loop, you should be able to provide good customer service to your customers even if your company is just starting to get bigger. You can also create the image of a company that cares a lot for the time of your customers more than the amount of money they invest in your company.
Because of this, you also create a loyal customer base that will bring good feedback for your business as well when your company is discussed in different forums in the internet. And as a company that wants good online presence, this is exactly what you want to have because the more customers that you have that are willing to share their good experiences with your company, the more you become popular in the internet – with a positive feedback.
>> Get IT Now ! <<

---
Click Here
or check Call Loop Reviews on Affgadgets.com